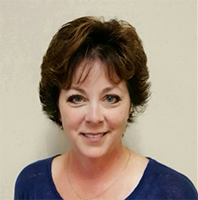 Name:  Jackie Moline     
Occupation: Registered Nurse.  I am the Maternal Infant Health Program Manager for The Nebraska Department of Health and Human Services. 
Position on Leadership team: Leadership Team Member
How long have you been with the Leadership team? 2 years
How did you get interested in breastfeeding? I have worked in Maternal Infant Health for over 30 years (34 in August) within the Hospital setting and now in Public Health.
What are your goals for the breastfeeding coalition? Continue to promote breastfeeding in Nebraska and provide encouragement and support to breastfeeding moms.
Do you have kids and if so, how many? Two grown children and their spouses Samantha and Dustin; and Josh and Val.  I have 3 wonderful grandbabies – Rex, Penny, and Rhett
Your favorite color? Blue (really depends on the day and what I am working on ie:  my favorite color for siding my house – nope! Would not be blue)
Favorite food?  I love all food – Ok not really, but maybe ice cream or pizza, fresh baked bread or cinnamon rolls……
Favorite quote: "If you can't say something nice, don't say nothin' at all."  Thumper in the movie Bambi.